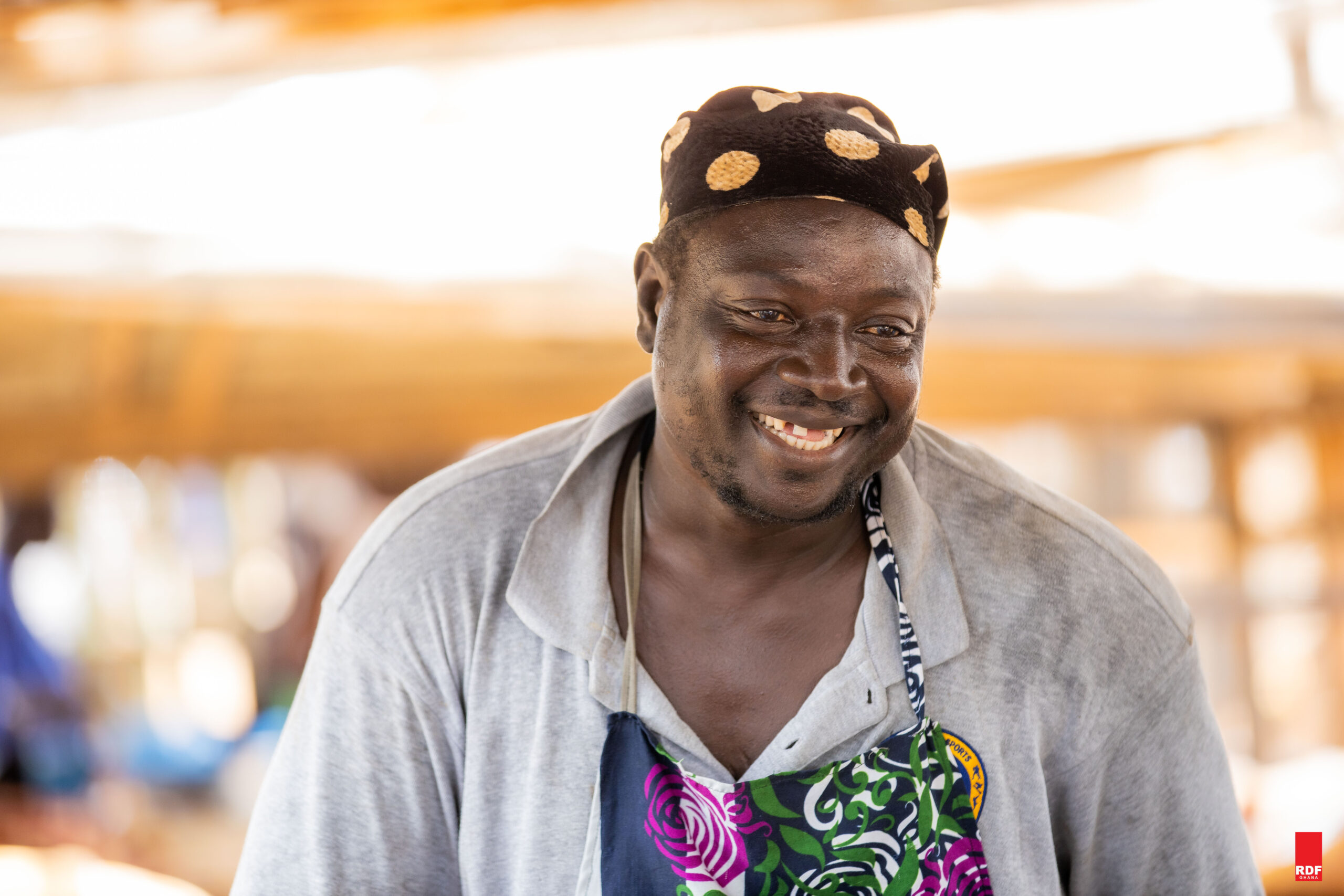 No Meat, No Show:  Yakubu's Cash Cow
There is a simmering pot of tomato gravy-glazed diced meat. The tilted lid of the pot reveals bubbles popping over cheeky green peppers. The meat is giving out its juices while the sauce is enriching the meat with its flavours. A perfect affair! The sight is sending signals down your throat, you are salivating already. All this is happening because your butcher came to work today to serve you.
A pot of Ghanaian soup or stew is never complete without any of our favourite animal protein picks; chevon, beef, mutton, chicken, pork or fish. For the largely non-vegetarian community in Ghana, it is fair to coin the slogan 'No meat, no show,' because meat is considered the centre of attraction on dining tables and for festivities. But, ever thought about the trade that brings 'the show' to your table?
The RDF Monitoring Team made our first visit to a butchery this year. Yakubu Moro, a butcher at Offinso Kokote was our host. He welcomed us with a warm smile. Set before us were huge chunks of fresh beef ready to be sold. Just like the typical Ghanaian Butcher, Yakubu works in a stall with his working bench set up before him. He had different types of specialized knives and a cutlass at reach. He rubbed the blades of his knives against each other in readiness to serve a customer who had approached his stall. His service delivery was a delight to watch.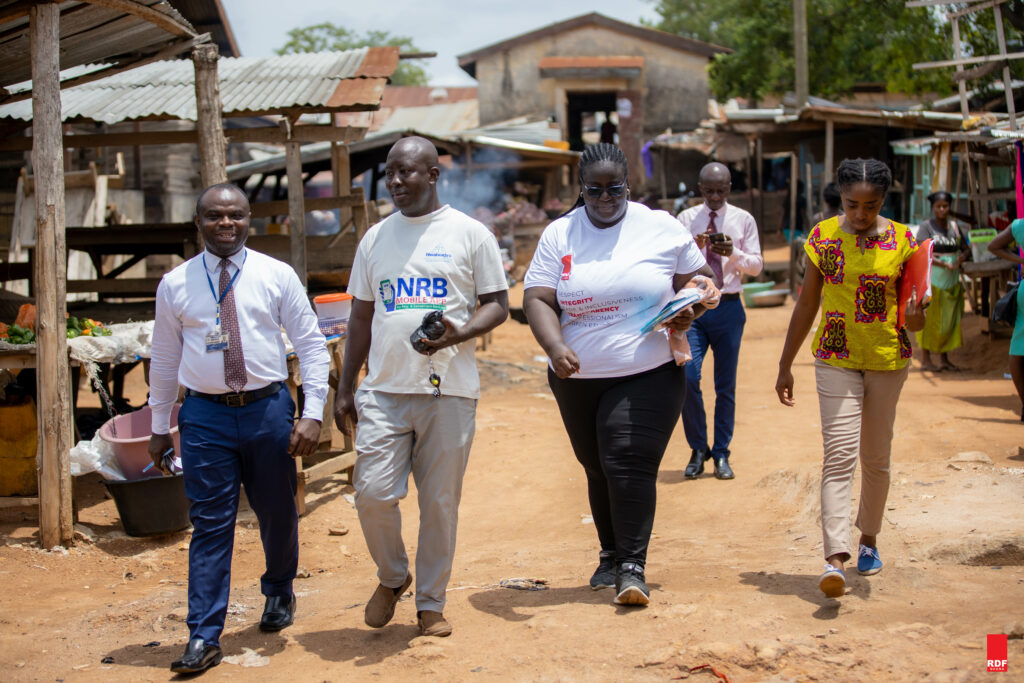 Apart from his warmth, Yakubu gave us a lasting memory of his transparency. The team observed with curiosity a stack of creased and discoloured pieces of paper pinned atop the right corner of his stall. Papers that can be traced back to years. Papers? Why papers? Why are they pinned? We enquired. Yakubu said,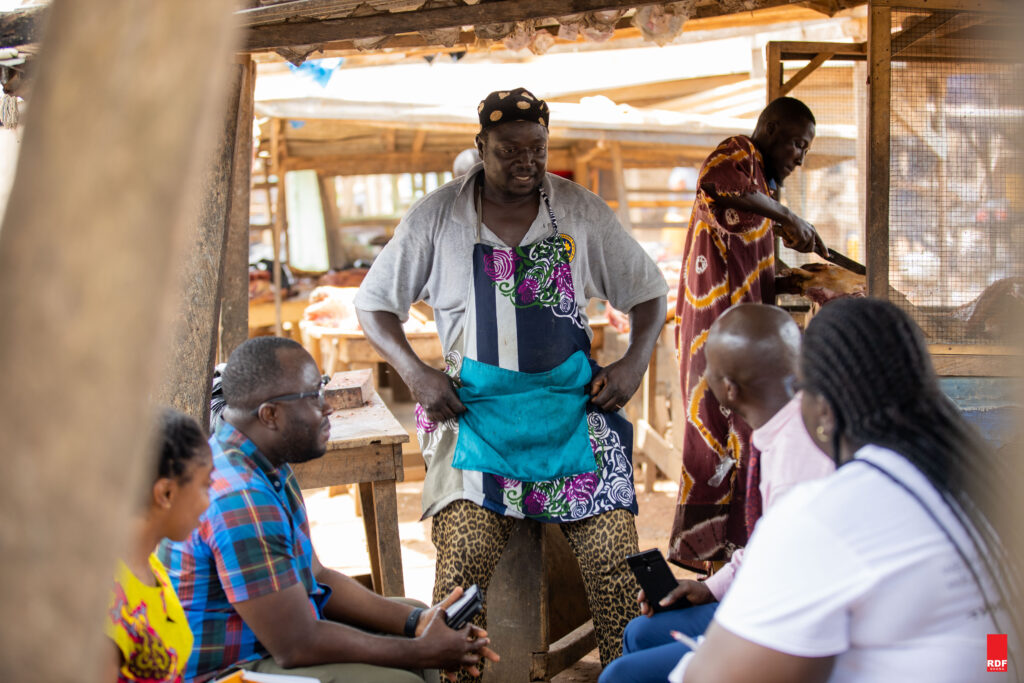 The papers were receipts of all the statutory levies he had paid since the commencement of his business. He was confident that though they were worn out they would still be useful proof any day.
Yakubu is a beneficiary of RDF's Lines of Credit through Nwabiagya Rural Bank. He used his loan to purchase meat for his business. He has been in the butchery business for 30 years. He travels to Buipe in the Northern Region each week to source meat. Yakubu transports seven (7) animals (mostly cattle, sometimes goats) weekly to be prepared for his customers.
A 2016 study conducted on meat production and consumption in the Wa Municipality of Ghana showed that
"Beef was the most preferred type of meat, followed by poultry, chevon mutton and pork and guinea fowl. Majority of the consumers (78.8%) buy and consume meat daily. Most consumers (60%) in the Municipality obtained their meat from the market referred to as the butcher."
According to the study, taste, price, availability, tradition and nutrition are the factors which most influence the consumption of meat in Ghana.
In a more recent study, in 2018, poultry was found to be the most consumed type of meat at the national level, followed by beef,  chevon and mutton according to Ministry of Food and Agriculture (MoFA).
Butchers are central to the provision of meat for consumer purchase irrespective of economic class and budget. Although statistics are not readily available on how many Ghanaians are employed in butchery, a good number of people are employed in the industry, with some of them deriving their sole source of income from it, just like Yakubu Moro. RDF asked Yakubu whether his trade was profitable.
In the last year, various branches of the National Butchers Association have spoken in the media about some of the factors Yakubu spoke about in our meeting with him. In the latest news report of the industry in late August 2022 (ghanabusinessnews.com), butchers in Ghana have urged the government to redeem the falling cedi. The Association said the livestock industry was not able to produce enough for local consumption, hence their reliance on Niger, Burkina Faso, and Mali for their animals. The butchers trade in CFA and the falling Cedi affects the stability of prices and hence their margins.
The Business and Livelihoods in African Livestock document (2014) makes 3 salient points which every agricultural enthusiast should look out for in predicting the future of the livestock industry.
By 2030, the value of agriculture and agribusiness industries in sub-Saharan Africa is projected to reach US$ 1 trillion, compared to US$ 313 billion in 2010, of which a non-marginal share will come from the livestock sector.
Livestock accounts for between 50 and 60 percent of the agricultural value added. It is increasingly recognized that the growth of agriculture and agribusiness, including the livestock industry, is key to reducing poverty.
A large share of Africa's poor is made up of smallholder farmers, the majority of which keep animals. Increased livestock productivity can improve the livelihoods of these producers; higher production also translates into lower food prices, to the clear benefit of the majority of households who are buyers of animal protein.
With these indicators, livestock production and butchery for that matter look promising. Agriculture is truly business.
While RDF is working with butchers to fully explore the potential of this promising industry, the organisation is concerned about the myriad of issues butchers are facing, especially regarding public health safety. Public health safety has become a matter of global concern and is highly relevant in butchery. In the last decade, some of the outbreaks that have ravaged the world have been said by experts to have originated from some animals like bats, monkeys and poultry. As part of our technical assistance programmes, we are building a community of agro-food handlers who will benefit from training to help them deliver quality to the Ghanaian market while their wellbeing is given the needed priority as well.
Despite the glaring challenges, Yakubu wears a genuine smile and it inspires us. We invite you to help us make the future billion-dollar industry better today. Yakubu cannot wait!