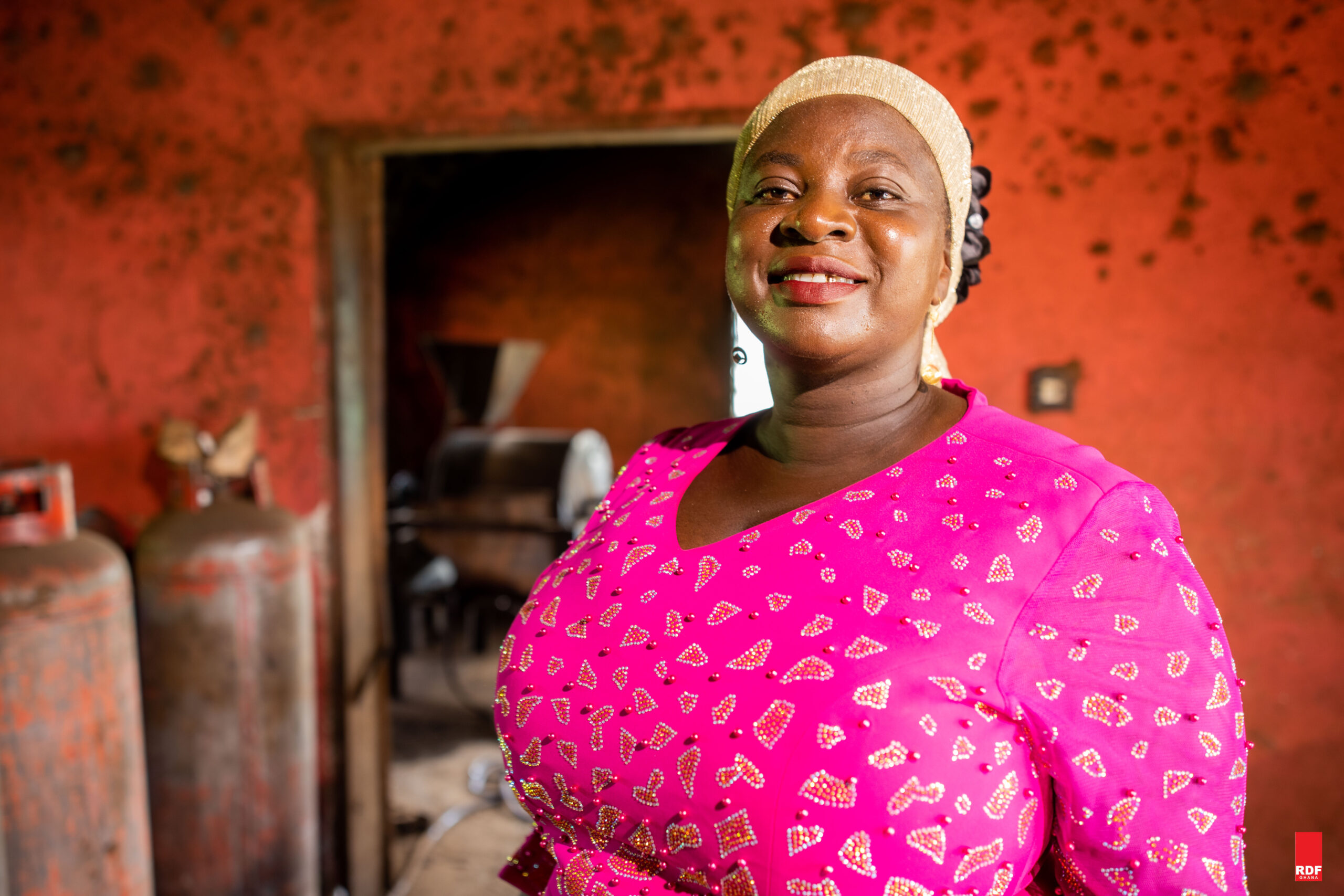 Female Coffee Processors in Ghana: There's a whole lot of Coffee at Farida's!
If you knew very little about coffee, perhaps you would know one thing, thanks to the
internationally acclaimed Ghanaian-led band of the late nineteen sixties, Osibisa; that
there's an awful lot of coffee in Brazil! And there's a whole lot of truth in that, for a
country which produces about a third of the world's coffee. We reminisce not only about the good rhythms of the past, but we lead you into learning about the strings of growth Farida is pulling in coffee processing in Ghana.
Hajia Farida Moro is an agro-processor at Abuakwa-Tabre in the Ashanti Region. She
processes mainly coffee, with add-on yields like soya beans, rice and wheat which she processes into tom brown, a popular African multigrain cereal powder. Hajia Farida is a beneficiary of RDF's line of credit made available to the agriculture and renewable energy sectors. At about the age of 25, Hajia was groomed into this business by an older woman and 19 years on, she has never looked back.
Come smell some freshly roasted coffee beans
Emmanuel Kodwo Sackey, the Head of Operations, Programmes and Partnerships at RDF Ghana and the rest of the visiting team, could not help but have a feel of these brown granules and take in deep breaths of the savour of some freshly roasted beans.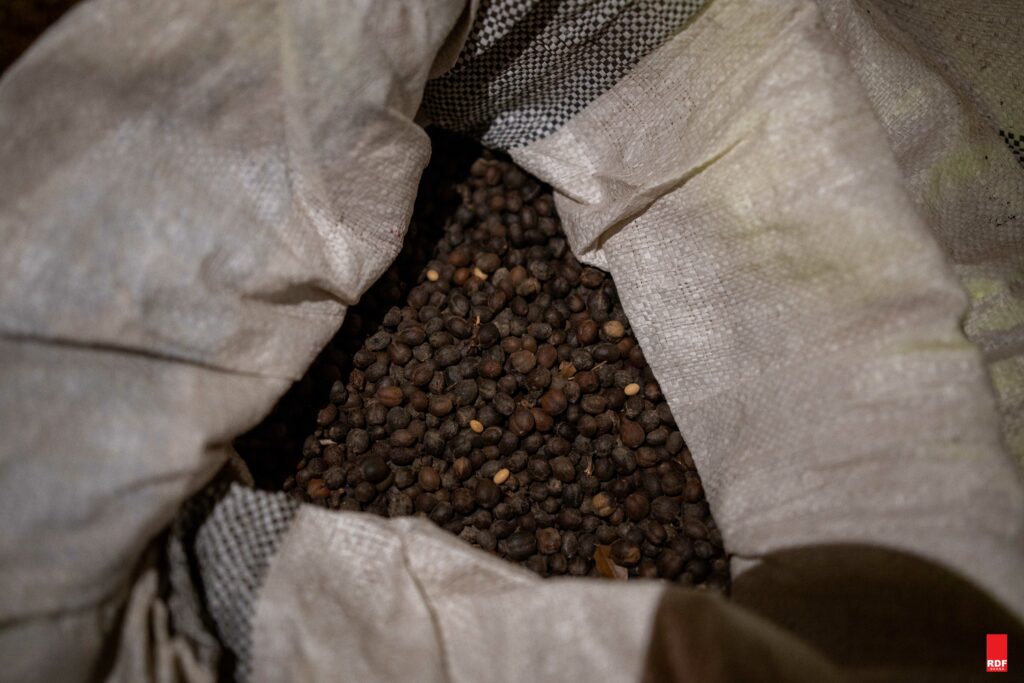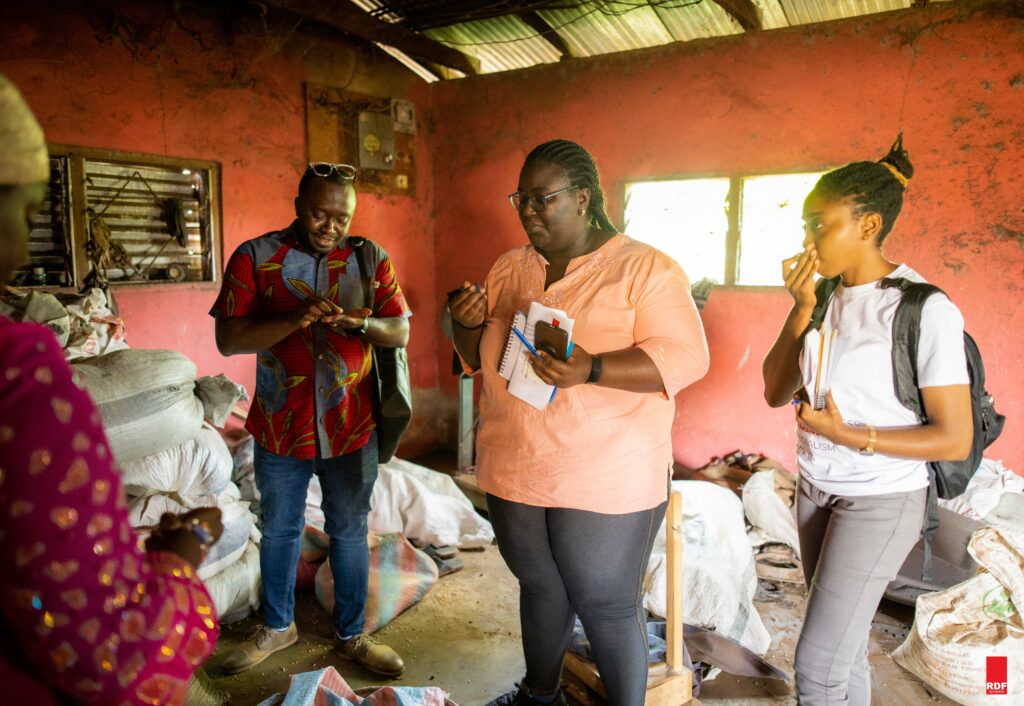 Hajia purchases about 10 tons of coffee beans weekly during the harvest season which starts from December to March. She sources most of her coffee beans from Kwahu-Bepong in the Eastern Region. After buying the beans, She roasts, grinds and bags them for sale.
Speaking on the production process, Hajia said,
Mechanization has increased the volume of beans she processes by 300% to meet the
ever-increasing demand. According to Hajia Farida, during the first half of the year, the
demand for coffee is very high as farmers and farm labourers find coffee, a refreshing
energy booster during the farm preparation period.
"The biggest challenge of this business is access to finance because if you do not have
enough money, you cannot buy the volumes you need to be profitable. In my case, access to the RDF loan provided by Sefwiman Rural Bank has given my business the
boost I needed."
The beauty of her work is her tenacity in business which has seen her grow to have her
own 'mini-factory.'
Senanu Tord of the Voice of America in a news report in May 2022 reveals that
It is worth noting that the export of green coffee beans dwindled because of the growth of local roasters in Ghana, most of which are owned by women. This wave was so intense that there was a period of zero export of green coffee beans because the local industry took over the processing of green coffee beans.
Essentially, the report tells about how women in agriculture are taking the lead in coffee production following the introduction of modified seedlings and new farm practices.
The report further indicates that trade in coffee makes up the largest part of tropical
beverages even more than cocoa and tea. The Government of Ghana says its goal is to
grow coffee to outgrow cocoa production or at least match cocoa's income generation.
Against this backdrop, one can only anticipate the success that lies ahead for Hajia and
many other women in coffee processing once the business climate is supportive of their
efforts.
Value addition and the spiraling effect
A good partnership makes a good business better. With the help of RDF's partner,
Sefwiman Rural Bank, Hajia is formalising her business. The bank is assisting her with
the Food and Drugs Authority certification process. This step will enable her to start branding her products for the market, a strategy RDF is looking to offer technical assistance for, to allow Hajia access a wider market, increase and sustain interest in her products.
Hajia has no formal training in her business, however, one would be impressed with her
ingenuity. Perhaps our sweetest memory of Hajia is the inviting aroma of her tom brown mix. It is simply inescapable! She blends milled rice, wheat and soya beans and adds
value to it by including milk and sugar to make it a complete quick cereal meal.
In the face of rising prices and unavailability of poultry feed, it is worth noting that Hajia has been supporting the poultry industry with the sale of processed soya beans. Also, Hajia supplies processed coffee beans to companies that require coffee to make
various kinds of beverages and confectionaries.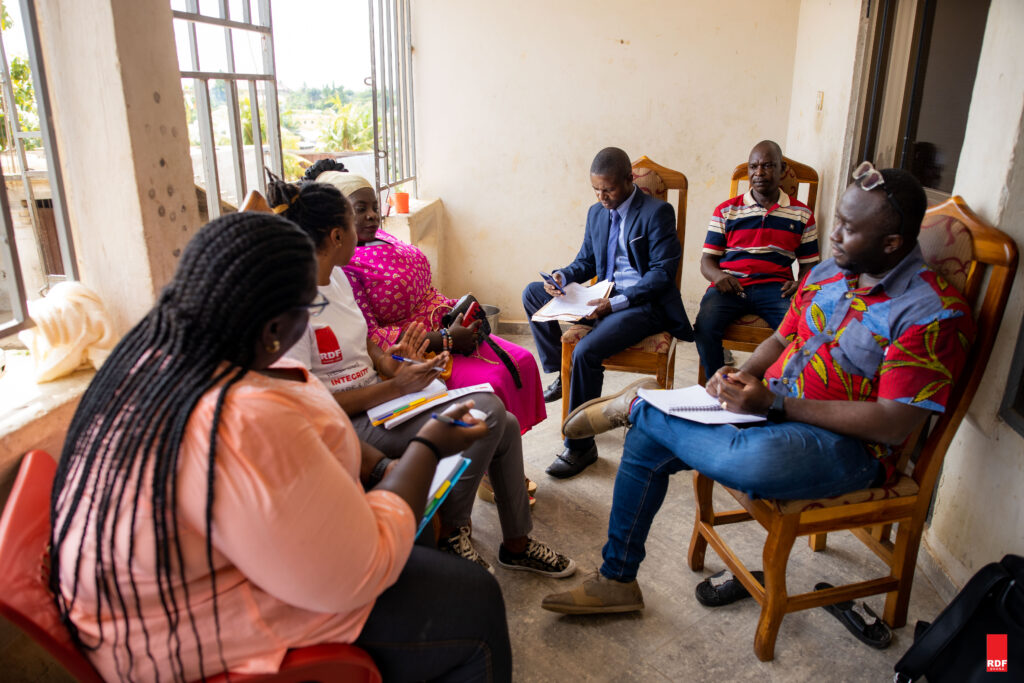 Where agriculture and aspirations embrace
Hajia Farida Moro envisions this business to grow into a big factory where she can
employ more people to trade value to the Ghanaian and the international community.
She has actually begun the process of acquiring land to bring this vision to life. With the
support of her caring husband, there is no limit to what Hajia can do. Currently, she has
five (5) employees including two (2) females. This business is creating a chain of
development in the Ashanti Region; one of her employees is a young Senior High
School graduate who is saving up money earned from the business in preparation
toward his teacher training education. One vision, one woman, many beneficiaries.
RDF has got the Ghanaian agro-woman's back
RDF is looking to facilitate the branding of Hajia's goods for the local and international
market. The organisation understands that branding is a core function in today's
competitive market place and is also essential in nurturing trust and longevity thus our
readiness to invest in the process.
The monitoring visit brought to the fore some other key needs calling for technical
assistance. These observations have to do with structural expansion, product storage and ensuring the occupational health and safety of Hajia Farida and her staff. Hajia also revealed that erratic power supply in her locality hindered business. While RDF explores energy solutions to assist Farida, we are open to engage with state agencies on how to make the business environment supportive of businesses like that of Farida's.
Next time you travel through the Ashanti Region, turn on Osibisa's coffee song and
dance your way to Abuakwa-Tabre because there sure is a whole lot of coffee at
Farida's. RDF Ghana is looking to engage and support more women like Hajia Farida
Moro. Are you one?